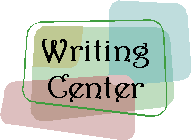 Picture Story
Pictures
Pencil
Reading Workshop Notebook (writing section)
In this center you will look through the pictures and choose one that interests you. Think about some of the people who could appear in the picture, what they are doing, and why they are there. Use the picture as a start to a story. It is important to remember that your audience (the people reading your story) will not see the picture so you need to use descriptive words and phrases to help paint a picture in the mind of the reader. Your story need a good beginning, middle and end.
Vivid Sentences
Simple sentence cards
Pencil
Paper
A sign of excellent writing is vivid words used to help the reader better understand what you, the writer means. In front of you are cards with simple sentences on them. Your job is to use these simple sentences and make them more exciting to the reader. Please write one new vivid sentence for each simple sentence. You may add words or even change words, whatever it takes to grab the readersí attention.
Letter Writing
Pencil
Reading Workshop Notebook
Independent Reading Book of your choice
In order to begin this center you will need to have read and understood a book in one of the prior centers. Next you will need to write a letter to Mrs. Oltmanns about the book you have just read. Your letter needs a greeting (Dear Mrs. Oltmanns), a date, body, and a closing (Sincerely, Fred). You need to write a letter to me telling all about the book as if I have never read it. In the body of your letter you need to give the title and author of your book. Donít forget to add the characters, setting, problem, solution and add any thing that may have puzzled you. I will write back to you once you have finished.

Create your own Story Problems
Objects
Cards
Pencil
Scratch Paper
Use the objects at this center to make-up your own math story problems. Begin the problem by setting the scene, the character, what they are doing, what they have. (Bill is in the kitchen peeling apples and he has three apples left to peel.) Write two or three sentences to create your problem. (He has twelve apples finished.) Then ask the question. (How many apples did he peel in all?) Write the problem on the card. Solve the problem and write the answer on the back of the card. Try to do three story problems each. When you finish exchange problems and try to solve one anotherís.
Stamp Story
Stamps
Ink Pad
Pencil
Stamp Story Sheet
Your job here is to write a story but just not any old story, one using stamps. You will use the stamps instead of a word. For instance if you are writing a story about a cat, every time the word cat comes up donít write c-a-t use the stamp of the cat. This may get confusing to the people reading your story so you need to make a stamp key, much like a map key at the top of your page. You can use no more than four different stamps in your story. Use complete sentences. When you finish read over your story to make sure it makes sense. Concentrate on having a good beginning, middle, and ending to your story.
Write a Friendly Letter
Paper
Pencil
Think about someone that you would like to write a letter to, maybe a friend in another town or a relative you donít see very often. You are going to write them a letter. Remember to use the parts of a letter that you learned and use those parts when writing this letter. You need a greeting, a date, a message, a closing and finally a signature. Use complete sentences and good handwriting.

Story Middle
Story Middle Paper
Paper
Pencil
Read the beginning and ending of the story on the story middle paper. Think about some ways that the story can come to the conclusion that it did. Read the story beginning and begin to write the story middle from where the beginning left off. Write the middle of the story in a way that it will flow into the ending. Once you have finished please read the story from beginning to end to make sure that your middle makes sense.
Reflection
Paper
Pencil
Doing or seeing something that is unusual in our lives is an exciting thing. Often times it is nice to get to talk about this event with out having someone interrupt you. You get a chance to do that now. Reflect on what you saw, write what you still have questions about, what you learned, what you liked best. Continue to write your thoughts on paper the entire time.

Questions, Questions
Paper
Guided Reading Book
Questions, Questions Sheet
After you have read your guided reading book, think about all the questions that went through your mind as you were reading. Some of them may have been thin questions, easy to answer that didnít take a lot of thinking. Others may have been thick questions, harder questions that may not have clear answers. Write any questions that you had about your guided reading book. Write as many as you can think of even if you know part of the answer. You can start your questions with: I wonderÖ. What would happen ifÖ How did that person feel whenÖ Why did Ö.happen?
Combine Two Sentences
Sentence Cards (two sentences per card)
Sentence Sheet
Pencil
Read the sentences on the card. Think about the different ways to make those two sentences become one sentence. Then write the best way on the sentence sheet. HINT: Putting and between the two sentences is not the best way to make the sentences one.
Ask the Author
Pencil
Ask the Author Sheet
Imagine that you could get to meet an author in real life. Remember some of the books this person has written, what did they make you think of or wonder about? What would you ask him/her? Make sure that when you write down questions that they are not silly or mean to this person. Do your questions have capital letters and end in question marks?

Comic Strip
Book
Pencil
Crayons or Markers
Comic Strip Sheet
Read an independent reading book to yourself. Imagining what is happening to the character as the story unfolds. Pay close attention to the pictures in your mind. Once you have done this, choose six important parts of the story. Use the six events for your comic strip. Draw the pictures you saw in your mind when each of the six parts of the book happened. Donít try to copy the illustratorís drawings, be original. Make speech bubbles to show what each character is thinking or saying at each point. Put each event in order. When you are finished your comic strip should tell a shortened version of the story you read.
Team Writing
Paper
Pencil
Team of writer
Your group is the team of writers who will write several stories one sentence at a time. Each member of the group begins by writing a good beginning to a story. This beginning should be more than one sentence. Once everyone is finished with their beginning pass your paper to the person to your right and you will also get a paper. Take time to read the beginning then add one sentence of your own. Then pass the paper to the right again. And so on.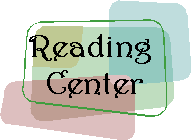 Silent Reading
Independent Reading Book
During silent reading time you may read a book or magazine. Your book may be an accelerated reader book, a guided reading book or a just for fun book. If you chose to read an accelerated reading book you can also take the test during this time if the computers are free. You can read at your desk or in the library but you need to be reading the entire time!
Compare the Tales
Two Fairy Tales
Pencil
Venn Diagram Sheet
Begin by reading the two fairy tales aloud to your group. You may want to take turns reading pages or paragraphs. Once you have read both fairy tales begin to fill out the Venn diagram sheet. Put the title of one fairy tale above one circle and the other title above the opposite circle. Write the similarities between the two fairy tales where the two circles meet and the differences on each side. Donít forget to put your name on it.
Poetry Reading
Books about poetry
For the entire time at this center, you need to be reading poetry. Pay close attention to the rhyming words and different types of poetry. Keep in mind your favorite poem you may need to find it for another center activity.
Illustrate Your Poem
Poem
Paper
Crayons
Pencil
Using the poem that you chose earlier, draw your best illustration for that poem. Remember to use the ideas and pictures you saw in your mind the first time you read the poem. Put many details in your illustration to make it your best.
Non-fictional Reading
Non-fiction sheet
Non-fiction Book
Pencil
Read a non-fiction book of your choice from front to back. Fill out the chart to show the things you knew, confused you, surprised you, or made you think.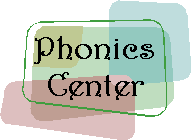 Rhyming Words
Pencil
Recording Rhyming Sheet
Magnetic Letter
Magnetic Boards
Often times you will see rhyming in poetry. One of the first steps a poet must do before writing poetry is find many rhyming words to work with. That is what you will be doing at this center. Use the word chunks that are on the magnetic boards to find many rhyming words. Record these rhyming words on your sheet. Make sure you keep all the same rhyming words together.

Dictionary Hunt
Dictionary
Dictionary Question Cards
Paper
Pencil
In front of you are cards with questions about pronunciation, definition, part of speech, and syllables. Read each card carefully. You will find the answer in the dictionary. When the answer is found write it down on your paper next to the number of the question.

Character Flip Chart
Paper
Pencil
Crayons or Markers
Scissors
Independent Reading Book
Look at the example to make folding easier. First fold the paper the long way (hot dog bun) next fold it in half in the opposite direction, then fold it again that same way. Now unfold the paper, you will have a paper with eight sections. Fold it in half and cut the three folds on one side. On the front of each flap draw a picture of a character in your book and write their name. Flip the flap up and describe the character. Do the same for each flap until it is finished.

Cube the Book

Guided Reading Book
Pencil
Scissors
Glue
Cube Sheet
At this center you will be making a cube. Although, before you make the cube you need to write on the six sides of it. On one side you need to write the title and author of your guided reading book. On the next side write the names of the characters. On another write the setting the next side should have problems or happenings on them. The ending or solution of the book should be placed on one side. Lastly put your name on the final side. Make sure you write in complete sentences when possible.

True or False
True or False Sheet
Pencil
Guided Reading Book
You will be making up statements not questions about your guided reading book. These statements can be true or they can be changed to be made false. For example: To make a true statement I could say Skunks hunt for food at night. To make that a false statement I could change it just slightly and say Skunks hunt for food during the day. I would write only one of those statements not both of them on my sheet. Write as many statements as you can. When you finish switch with another member of your group that is finished and complete each otherís True or False sheet.

Character Map
Character Figure
Pencil
Guided Reading Book
Crayons
Think about the main character in your story. Write words that describe your character on your Character Figure (similar to a silhouette or stick person). If the character in your book liked to read, write Ďlikes to readí on the figure. Remember that you have to think about what the book is not saying about the character as well. Look closely at the pictures to find other clues into the characterís personality.
Story Map
Pencil
Guided Reading Book
Story Map
Look over your Guided Reading book; think about the characters, setting, problem, and solution. Use the information in your GR book to fill in the story map. Use complete sentences and many details!

Make Your Own Meal
Restaurant Menu (with prices)
Meal Total Sheet
Pencil
Begin by choosing what you would like to eat. Make sure that you include a drink and a main course and even a dessert if you would like. Write your choices on the Meal Total sheet and also include the prices. Add up your meal to see what the total would be. Continue until you fill your sheet with different meal options.
Newspaper Scavenger Hunt
Newspaper
Newspaper Scavenger Hunt Sheet
Pencil
Using your newspaper answer the question on the worksheet. Use your best thinking and if you have any questions, ask the people in your group first. Good Luck. HINT: Look at the page numbers to find the answers faster.
* I take a few minutes to write out questions about the newspaper and put the page number next to each question.

Letís Go Shopping
Catalogs
Pencil
Shopping Sheet
You get to go on a shopping spree! You have $50 to spend. You may buy as many things as you wish. When you purchase something write down what you purchased in the item column and the price in the cost column. Be careful not to go over $50. Once you have decided on your final purchases add up the total.