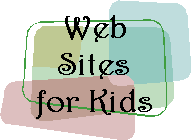 Room 108
http://www.netrover.com/~kingskid/108.html
This is one of my favorite sites for kids. This site has everything from stories, music, games, puzzles, math, science, spelling, and art stuff. You could spend hours doing fun or educational stuff.

Bab Books
On-line Stories for kids
http://www.amtexpo.com/babbooks/
This site allows your child to read books one page at a time. The books range from hard to easy. They are all good fun stories. ENJOY!

Education Place
http://www.eduplace.com/kids/index.html
Web tales, brain teasers, activities, proofreading, math and more are on this fun educational site.

Crazy Libs
http://www.rinkworks.com/crazylibs/
Fun and interactive story writing participation, with pre-written stories of all kinds.

Click Mazes
http://www.gjnem.demon.co.uk/
Lots of unique interactive puzzles and mazes found here, and a few other things besides.

How Things Work
http://www.iao.com/howthing/
Indescribably vast and fascinating collection of articles on how almost anything you can think of works. An extensive list of explanations of how things work!